Tire Inserts, Wall Tire Displays & Floor Tire Displays available Nationally
New Tire Display Solution Featured on Tire Review
BFD Solutions LLC. has released a new tire display that can be arranged by stacking one on top of another or side by side. The display will hold up to a 35-in. tire or can be compressed to hold a smaller tire.
BFD SOLUTIONS
If you can dream it, we can build it!
BFD Solutions understands the competitive nature of the automotive industry…and we have the innovation and skill to give you the advantage that separates you from the pack. Specializing in custom tire and wheel displays, BFD Solutions makes it easy to cross-sell, advertise specials, highlight particular product lines and promote your business.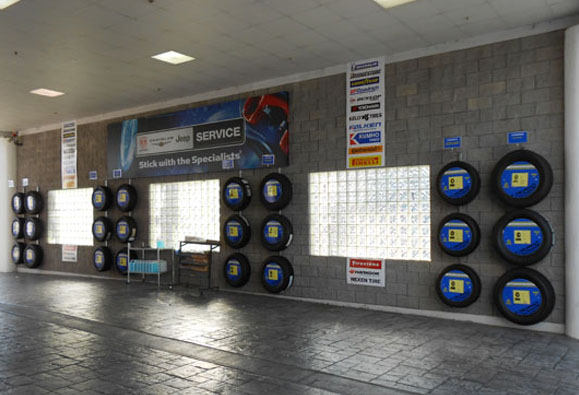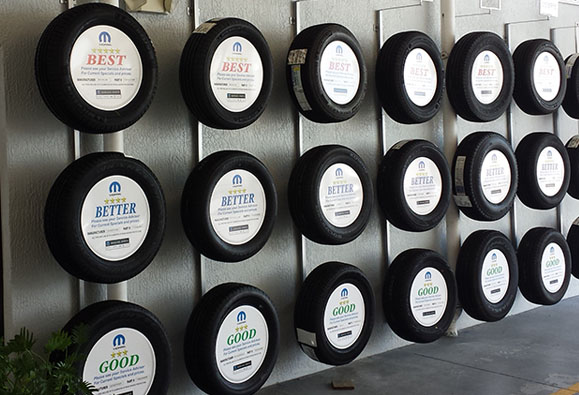 Designed with Sales in Mind
No one likes to be 'sold'…but they love choosing. Sales trainers throughout the world teach that the 'either / or' approach is an effective way to close more sales. BFD Solutions provide an attractive product presentation featuring the information you want to share, from size and application to price. We can provide that 'good / better / best' display that offers your customers options based on their individual budgets, and statistics show that most customers select better or best with no additional influence.
Our Displays NEVER Stop Selling
When you're busy, it's easy to forget those basics that make the difference between a good day and a great day. It's not unusual for a rushed service consultant, counter associate or parts department employee to forget to suggest new tires. The #1 reason a product isn't sold is because no one told the customer about the product.
With BFD Solutions, you can provide a product presentation that:
Never takes a break
Never forgets the sales script
Never skips a customer
Delivers your message EVERY single time in an attractive, appealing and professional manner.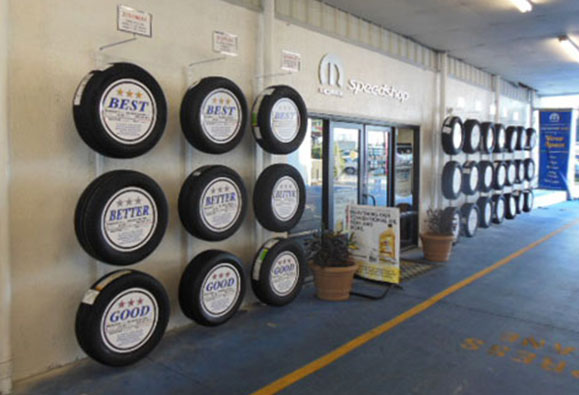 Solutions Customized for Your Needs
It may be a similar product, but your pricing, service approach, quality and facility are different. You've made it that way in order to appeal to your customer base. BFD Solutions recognizes the importance of maintaining your brand's image. That's why we design and manufacture custom tire and wheel displays, as well as one-of-a-kind specialty marketing products by request. Our tire displays, inserts, mounted displays and floor displays can be customized for most any application. Our goal is to promote your brand with effective, customized marketing products that enhance the appeal of your tires and wheels.
WHAT OUR CUSTOMERS ARE SAYING
When I came in on Monday I thought I was in the wrong dealership, what a difference, Wow! Our tires sales increased by 20 sets a month, our drive looks great, and we can't keep our customers away from the display! We are at the next level in tire sales and we can thank BFD Solutions. Great Job guys!
Will you be next? Don't let anyone else capture your customers…
We here at Bill Bryan Chrysler Dodge Jeep and Ram in Fruitlandpark, Florida have been in the tire business for about 5 years. Our service drive was loaded with tires, we had racks everywhere, we were always rotating the stock because the labels would discolor and the tires would get all grubby looking, it was a battle we couldn't win.
Wall mount tire display and custom tire displays is what we do best!
We contracted BFD solutions to help us with our mess on the drive and our tire sales that we couldn't get to the next level. Within days, Bill had a solution to our problem. We ordered the tire rack display and Bill with his crew came and installed it over the weekend.
I am very pleased, and yes I would refer any one looking to design a tire display to BFD Solutions.
I would just like to say that it turned out better then I thought it would. Installing was a breeze, I had all the racks up in about 3 hrs. It took some time to install all of the tires and covers, but it was worth it.
BFD Solutions is a great place, If you're looking for a high quality product at a good price, then BFD Solutions is the answer, very friendly and honest, fast service and faster delivery. They can make any thing you wish to design, and they will make it happen for you.
We have served many great clients…and had a lot of fun custom designing, producing and delivering their wall mount tire display! Below are the client testimonials you can review.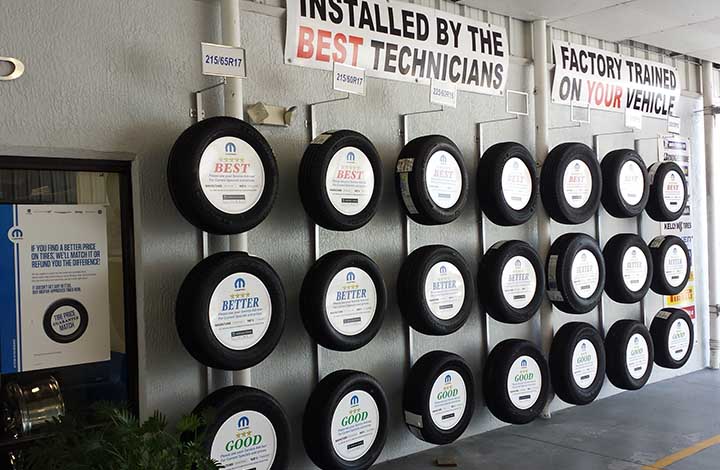 Industry Experience that Works for You
BFD Solutions has more than 40 years of hands-on experience in the automotive industry. Working in the retail, wholesale, parts distribution, automotive dealership and the performance market, automobiles have always been his passion. Our products reflect that passion.